This post contains an affiliate link from which we may receive compensation.
It's been way too long since I've taken the time to sit down and gather my thoughts enough to catch you up to date on the latest happenings on the Homestead. In short, it's garden season. I'd be lying if I told you we weren't in over our heads a little bit this year. Weeds are everywhere, some are taller than I am. Squash bugs destroyed my zucchinis before we ever ate the first one. It rained for basically 2 weeks straight and then stopped with no rain in sight for many more days. Nonetheless, the garden has still somehow been quite bountiful over all, enough to keep me very busy picking, cooking, and preserving. Throw a school-aged child, a couple of toddlers, a hobby farm, and a husband with a demanding day job into the mix and you start to see a more clear picture of things around here. Oh and I almost forgot about this being the worst year for mosquitoes that I've ever personally experienced. I'll go out to pick green beans in broad daylight and come inside looking like I've been smitten with the chicken pox all over again. Bug sprays do nothing but make me smell weird. These suckers are monsters, and they're relentless. But the bean plants are producing bushels of beans for us despite the weeds and the skeeters. Sometimes farming and homesteading just happens that way. I can't cover all that's been going on around the Homestead in this one post. There is A LOT more to talk about.
If you are into canning and preserving your garden bounty, you are no doubt aware of the fact that canning lids and bands have been in short supply for over a year. While many of us veteran canners have stockpiles of jars (that we use for basically everything under the sun) the metal lids that we use for canning are NOT reusable. I don't like the feeling of not being able to preserve all that hard work in the garden because I don't have the proper supplies, especially with grocery store prices skyrocketing these days. To be completely honest, even when I do have lids, I'm not the biggest fan of pressure canning. I had a scary experience when I was a newbie that involved having to not only mop the floor and wipe all the countertops and cupboard doors surrounding my stove, but I also had to wipe half of my kitchen ceiling down with towels. You have no idea how grateful I am that I wasn't standing over the canner when it decided to blow the emergency valve open. I mean, my face isn't much to look at anyways, but it would've been a lot worse if I'd been standing nearby. This lady still operates the pressure canner very cautiously and I won't let the little people anywhere near it.
In an effort to offset some of the anxieties surrounding the issue, we decided to purchase a Harvest Right home freeze dryer. It wasn't a knee jerk decision, as it is quite an investment. Let me tell you this much. This freeze dryer has completely upped my food preservation game in ways I never dreamed of. Not only can I preserve my garden harvest in new and exciting ways, but the foods retain more of their vitamins and minerals than through freezing, canning, or dehydrating. Not to mention the long term storage capability without refrigeration required. Garden veggies and fresh fruit are just the beginning of what this machine can preserve. I've also preserved sour cream, meatloaf, and even ice cream sandwiches. Not that I'm growing ice cream sandwiches in my garden or anything…
If you've never heard about the benefits of freeze dried foods and want to learn more, or you're interested in purchasing a home freeze dryer for yourself just follow the link below. Severt Hives and Homestead is now an affiliate of Harvest Right, so if you too decide to take the plunge, please consider doing so through this link. It costs you nothing but it does help us to earn a small commission which we appreciate very much!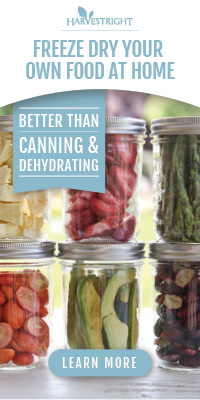 Enough sales pitches for today, lady, come on. But seriously, that freeze dryer has opened up the realm of possibilities for our Homestead. Not just from a garden preservation aspect, but also from a preparedness aspect. We live in a rural area, literally at the end of the line for our electric service. If anyone's power in the county is going to go out, it'll be us. While we dream of offsetting our electric consumption with a solar or wind powered generator at some point, we just aren't there yet. It helps me to rest a little more peaceful to know that during times such as that we will have a safe, accessible supply of food for my family if we aren't able to cook or depend on refrigerated or frozen foods. Natural disasters happen, too. With a good supply of bottled water and other emergency items, it is reassuring to know that food is one thing we won't have to worry about if something terrible occurs. Ruling out a tornado destroying everything of course. But I digress.
I believe there's an old saying that talks about a certain road being paved with good intentions, but I do intend to get back into updating the blog a bit more regularly. I have drafts of several beekeeping blogs that I just haven't been able to pull together yet. Mostly because it's very difficult to photograph when your working in a beehive. Have you ever tried it? It's quite an electric experience, I assure you. That moment when you're trying to capture that perfect brood pattern, or video a brand new bee emerging from a cell only to lose your grip and drop the frame FULL OF BEES and your cell phone/camera because your hands are sweaty and sticky… disgruntled bees and many stings later, you learn your limits and wait until you have help. Hopefully soon those posts can get published as well. I apologize for my hiatus.
Until next time, enjoy the rest of your summer. If you are in more northerly climes as I am, old man winter will soon breathe his icy breath over the landscape once again. The flowers will fade. The garden will wane away to nothing. Take advantage of this day and be blessed by the simple beauties of creation. Even in times that remain uncertain and troubling, there are still constants all around us if we chose to see them. "As long as the earth endures, seedtime and harvest, cold and heat, summer and winter, day and night will never cease." Take heart in that truth, my friend.